Vacation Rental Properties
Tiki Real Estate also offers Long Term Rentals and Property Management Services. We have a great professional property management team! Our Property management services are provided exclusively in Panama City Beach but we plan to expand our services into the 30A market this summer.
Whether you're looking for a home to lease, or you have a property you want us to manage, be assured that we will provide quality services to meet your needs.
Call us at 850-602-HOME today!
Featured Vacation Rental
A Taste of Vintage Florida – Renovated Cottage Motorcycles Welcome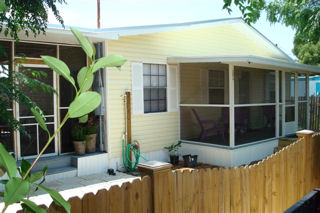 NEWLY RENOVATED – EVERYTHING IS NEW!
This wonderful beach cottage gives you everything you are looking for when getting away on vacation!
This is the cutest beach cottage you have ever seen. Totally restored in 2010.
Two blocks from the beach and the beautiful Gulf of Mexico at an affordable price!
Very "Shabby Chic" with all new appliances, bedding and furniture. Enjoy 2 screened porches and a deck. This cottage has parking accommodations for 3 vehicles or 2 vehicles and 1 trailer. (Secure motorcycle parking inside the privacy fence) Click Here For More Info